Repository migration
Oak offers a few tools which can be used to migrate the old, Jackrabbit 2 repository and also to copy content between Oak instances. oak-upgrade is a Swiss army knife for copying content between virtually any repositories. On the other hand, the SplitBlobStore allows to copy the binaries gradually, from one blob store to another, without having a long repository downtime.
Offline migration using oak-upgrade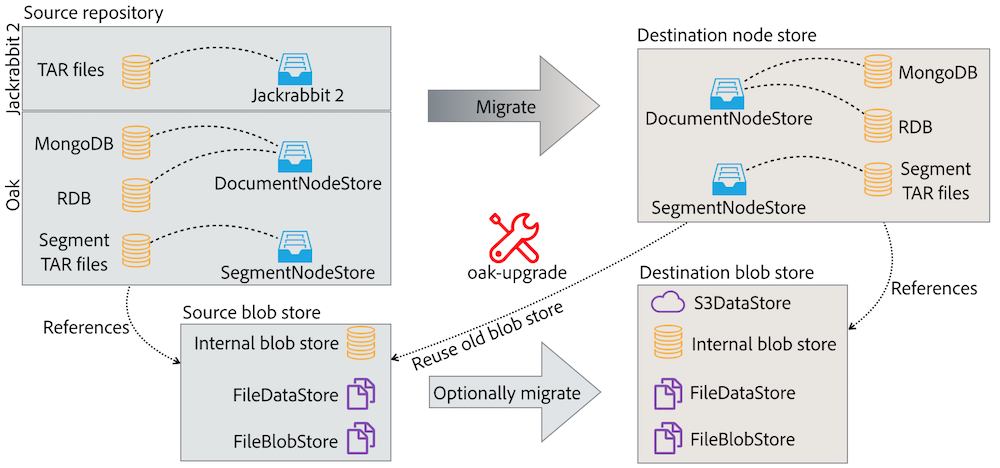 The oak-upgrade module allows to do an upgrade from the classic Jackrabbit 2.0 repository to the Oak node store and also to sidegrade from one nodestore type to another. Besides from that it has a number of features that can be useful in everyday system maintenance:
copying only a selcted subtree from one repository to another,
precise control over version histories migration,
migrating binaries from one blobstore to another.
Online blob migration with SplitBlobStore
Oak offers one more way to migrate blob store, without turning off the instance (a few restarts might be required, but the migration process is done during normal repository operation).
There is a SplitBlobStore implementation, that takes two blob stores: the old (already existing) and the new (empty) one. After configuring Oak to use it, all write requests are proxied to the new repository. The read requests uses the old or the new repository, depending on the blob id (SplitBlobStore saves all the new blob ids).
Besides from the new blob store implementation, there is a process (controlled by JMX) which migrates binaries between stores. When all binaries are migrated, the SplitBlobStore can be disabled as well as the old store.